accessories
Best Saddlebags for KLR650: Soft and Hard Bag Recommendations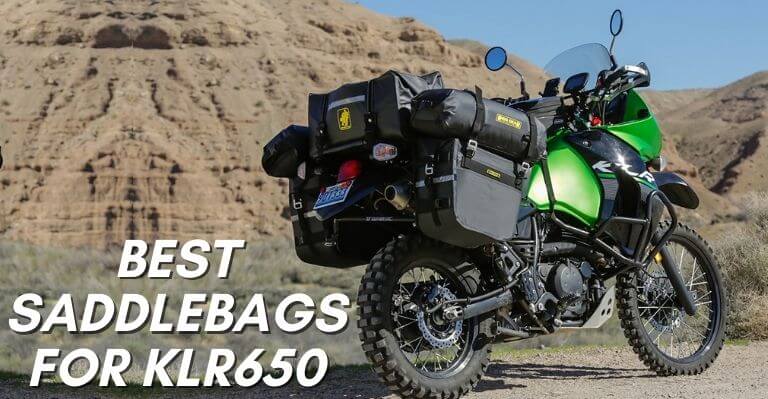 Kawasaki KLR650 quickly became popular among sportbike lovers due to its striking looks and biking experience. This dual-sports bike offers excellent on-road and off-road adventures. To date, many people love riding this bike, and it has fans all over the world. However, many bike riders find it difficult to find a saddlebag for this model because there are limited options for getting saddlebags for sports bikes.
A saddlebag is such a vital accessory for a bike because it can offer you ample storage space and add to its overall look. Today, many bike owners want to invest in good quality saddlebags for their bikes as it can help with storing multiple things in one place with utmost security. 
Several types of saddlebags are available today, ranging from $50 to $200, but it is crucial to find the right one for your bike by checking its features and specifications. And to make your hunt easy, we have listed the top 5 saddlebags for KLR650 that are durable, have an adequate storing capacity, and serve the purpose of keeping your belongings safe. Check out this list for the best saddlebags for KLR650 and find a suitable option for yourself. 
Best Kawasaki klr 650 Saddlebags
1. Nelson Rigg Sierra Dry Saddlebags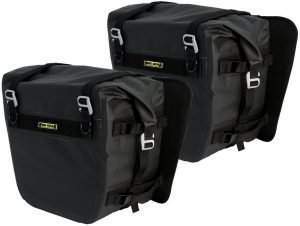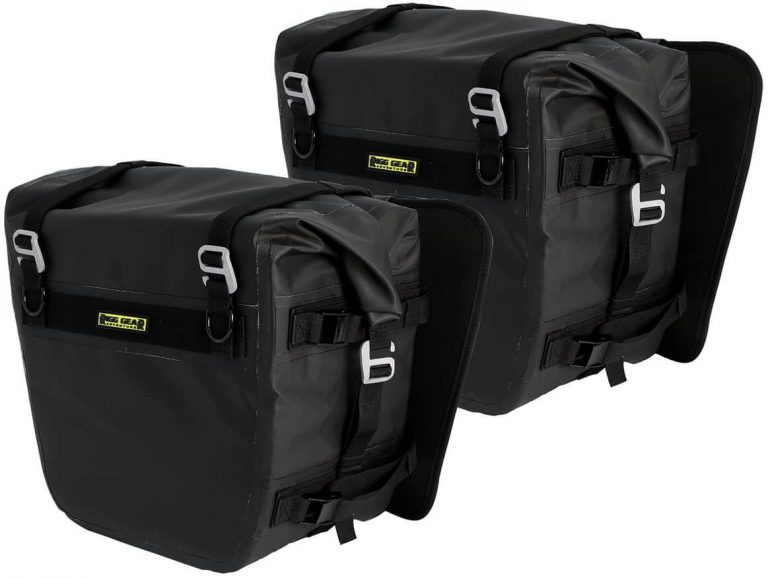 The first recommendation on our list to get the best saddlebags for KLR 650 is this pair of dry saddlebags from Nelson Rigg. The brand has been a known name when it comes to getting high-quality saddlebags. All the bags from this brand have a unique design, universal fit, and secure mounting system. The saddlebags come with removal stiffeners and a firm internal backplate that supports the bags. It also features replaceable pads that protect your saddlebags from rubbing against the bike rack. The bags are made using waterproof, Trauplin PVC materials to ensure its durability.
Pros:
One can easily mount this set of saddlebags on various types of bikes, PWC, and Snowmobiles.

As both the bags have four quick-release cam buckles and double pull straps, one can mount it with ease. 

The mounting material of the bags is made using aircraft-grade aluminum.

This set of saddlebags is available in two colors: Black and Yellow.

Each bag has a holding capacity of up to 27.53 liters and has a UV coating that makes it convenient for cleaning.

These saddlebags are 100% waterproof, durable, and feature non-breakable plastic buckles.

The bags come with two lightweight liners that help in maintaining the shape when the bag is empty.

The seams of the saddlebags are electronically heat welded, which adds to its durability.
Cons:
Some buyers faced after-sale issues with customer service.

---
2. Vuz Moto 2 Piece Motorcycle Dry Saddlebags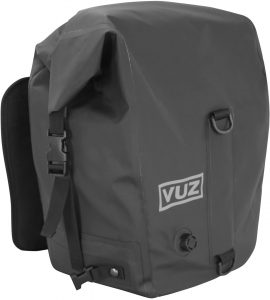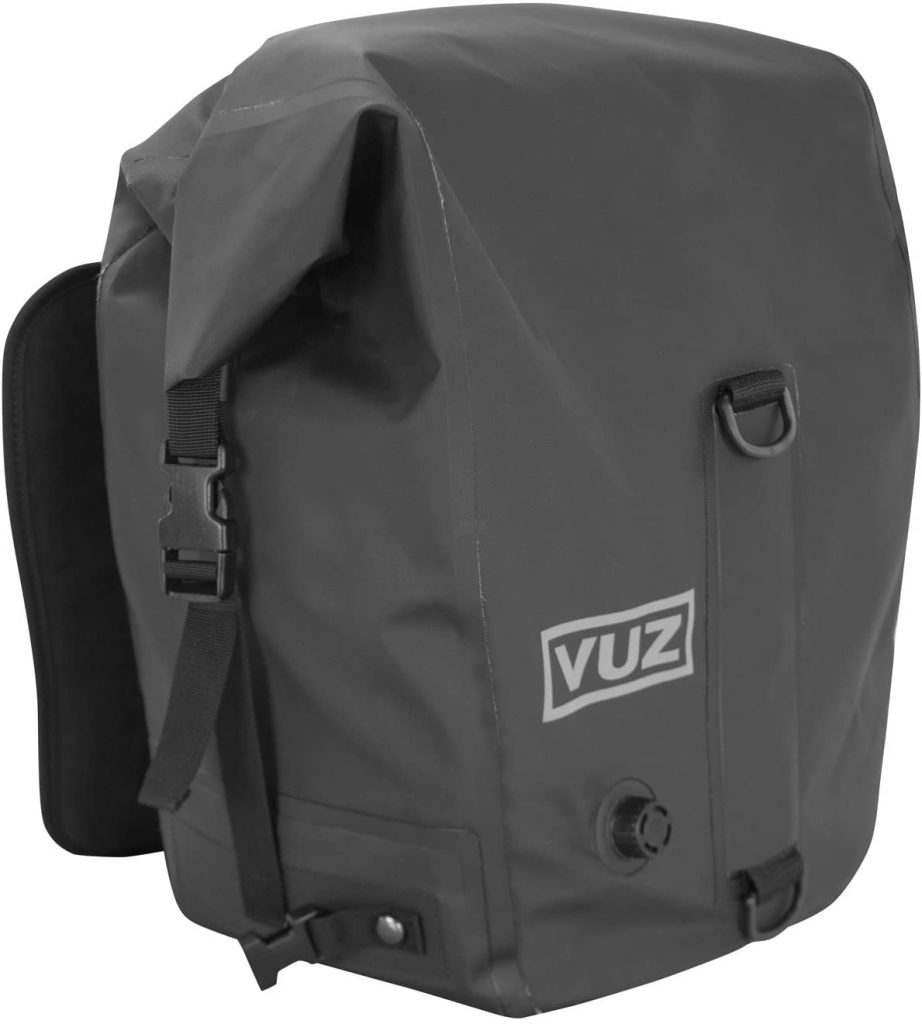 One of the most popular saddlebags among bike riders is this dry saddlebag by Vuz Moto. It has two pieces of dry saddlebags that can keep all your luggage. The bags are compact, have a simple design, and can go well with any bike. Both the bags also have neoprene heat shields that add to its durability and safety. The bag's overall built quality is excellent and suitable for the people who drive in adverse conditions as these bags can withstand all such circumstances. The buyers have liked this saddlebag's overall performance as it delivers excellent performance and also looks classy. These bags also have reflective strips on the rear to increase visibility.
Pros:
The bags are completely waterproof and have a roll-top design with an air valve, which aids in keeping the luggage dry. 

These bags can be mounted with ease on any dual-sport bike, adventure bike, or the bikes with tubular frames.

As these bags have adjustable straps, it can adapt to a range of mounting points.

It also comes with scrambler straps that can be used for single bag mounting on the bike with heavy exhausts on the other side.

There are four compression straps on each bag, one on top, the other on the bottom, and the rest on the sides.

Each bag features velcro strips that make it easy to remove and access.

The bag is quite durable for all climates and riding conditions.
Cons:
Buyers are not happy with the quality of straps as it seems a little flimsy.

---
3. Kawasaki K57003-100A Saddlebag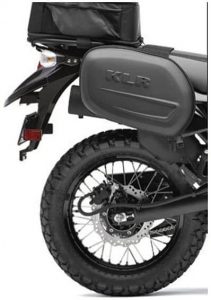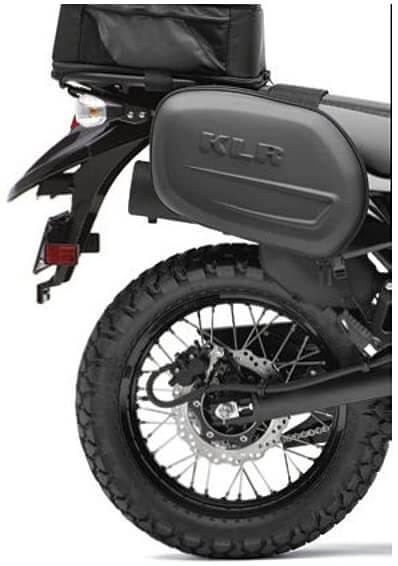 What could be better than opting for saddlebags from the Kawasaki brand as it is known for its top-notch quality products. People searching for KLR650 saddlebags can opt for this pair of saddlebags. I would highly recommend this option for the people who are looking for good-quality saddlebags for commuting and work as it has all the features one can ask for. The saddlebags are well-constructed and can also be used for small road trips or even for camping. It is compact, looks stylish, and adds to the overall look of your bikes.
Pros:
The saddlebag features a rubberized vinyl finish, which adds to its durability and overall built quality.

It is made using advanced engineering and testing to ensure it has up to mark results.

These saddlebags are convenient and have ample storage space while touring or even for daily use.

It is waterproof and is made with pushing technology that helps the riders to drive with ease.

One can easily install these bags and remove them when not in use.
Cons:
One should know that these saddlebags require model-specific saddlebag supports, which are sold separately.

It is less spacious than the other options on this list and is ideal for people who do not require much space on a day-to-day basis.

Some bike riders were not happy with the overall quality of the materials used in this bag's making.

---
4. Rockbros Motorcycle Saddle Bag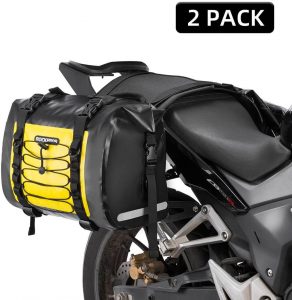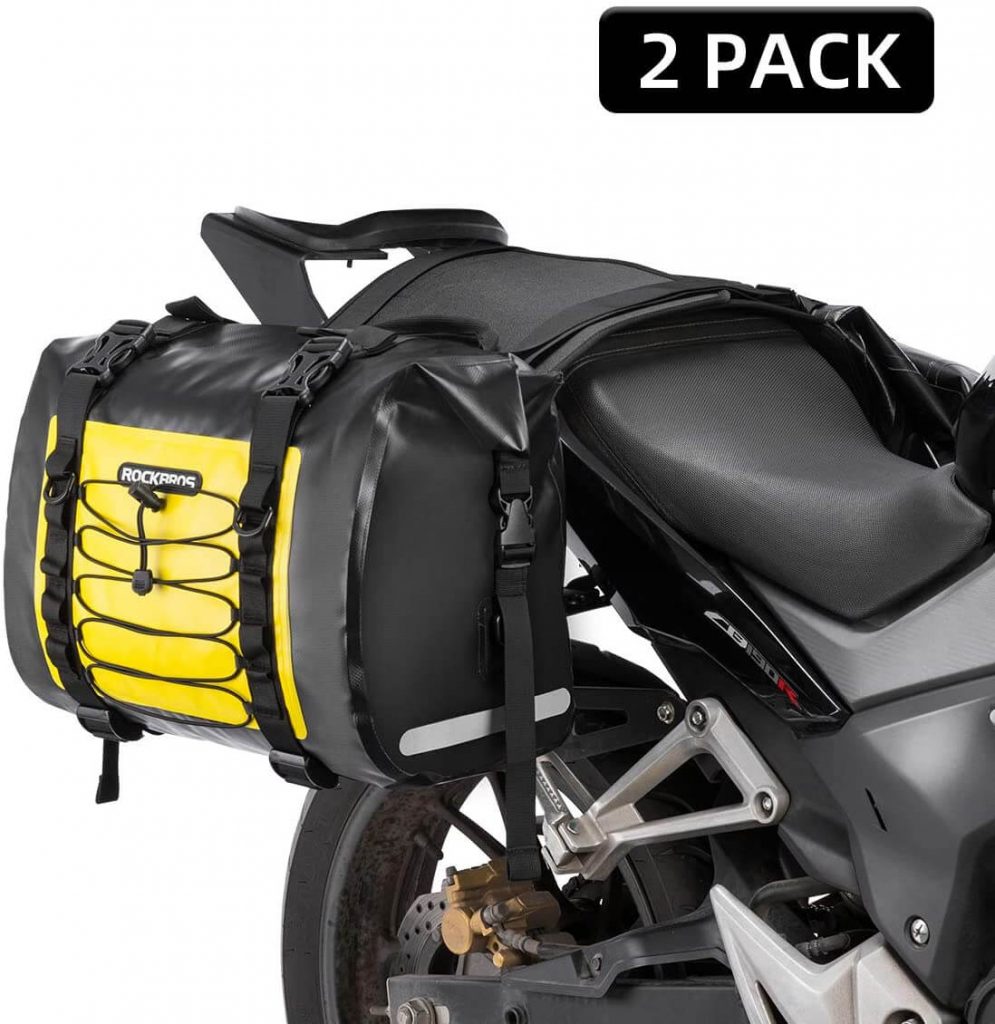 Are you looking for super stylish saddlebags for KLR650 under $100? If yes, then we have got a perfect match for you! This pair of saddlebags from the house of Rockbros can be your best buy, given that the saddlebags do justice to its price point. It is easy to install, and the bag's unique design makes it stand out from others on this list. The bag is constructed using high-quality materials, which makes it heavy-duty and water-resistant. It also has buckles and straps to make the adjustments as per your preferences. The bags are also soft-sided and collapsible to make it easy for users to store their belongings. This pair of saddlebag is the best saddlebag you can get at this price for the features it comes for. 
Pros:
The saddlebags feature a rolling-up design that ensures that it provides quick access.

It is made using military-grade PVC tarp material that adds to its durability.

The saddlebags are waterproof and have a capacity of 60L, which makes it a perfect buy for people looking to buy saddlebags with ample space.

These saddlebags can fit several motorcycle models from HONDA, YAMAHA, SUZUKI, and more.

This pair of saddlebags are available in two colors: Yellow and Black.

One can adjust the distance between the two bags as it has velcro straps and buckles for making such arrangements.

As it is made of high-grade PVC, it prevents dust and can be cleaned with ease.
Cons:
There were no cons that we found for this option.

---
5. Chase Harper Saddle Bags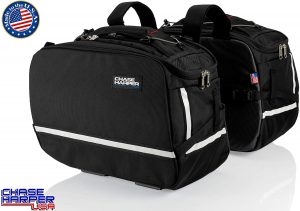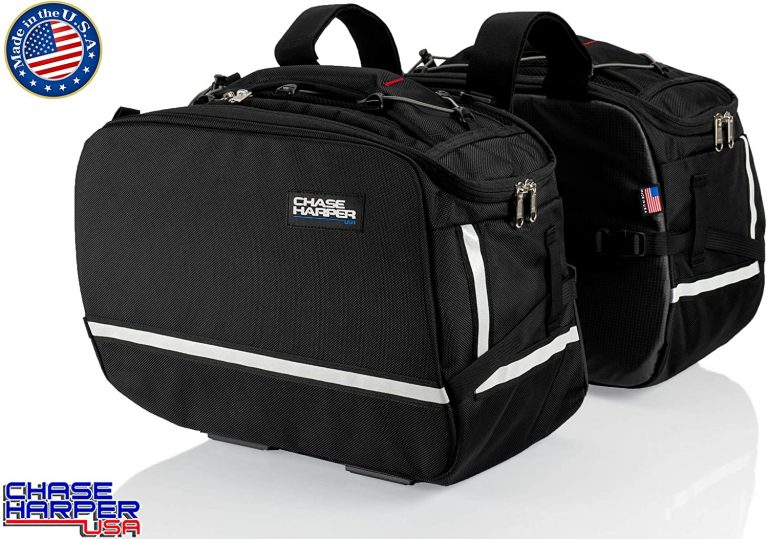 The last option on our list is this pair of saddlebags from the house of Chase Harper. This option is suitable for someone trying to get their hands on a good-quality and heavy-duty saddlebags. This pair of saddlebags have an aerodynamic design that is reinforced by using thermoplastic inserts. Each bag has a maximum storage capacity of 20L that makes it convenient for daily use. As it has a contour inner shape, it gives a slimmer fit, and the heavy-duty construction prevents the sagging of the bags. These saddlebags have highly reflective strips on both sides to add visibility. One can easily install these bags on their bikes with the help of adjustable straps and loops it comes with. 
Pros:
The bags are lightweight, have a universal fit, and are constructed using industrial grade ballistic urethane-coated nylon.

It features adjustable velcro straps that can be paired with the mounting system on your bike to ensure a secure fit.

These saddlebags feature a hand-molded thermoplastic insert that adds to its rigidity and helps the bags to maintain their aerodynamic shape.

It also has quick-release buckles on each of its loop mounts that help in mounting and dismounting with ease in no time.

This pair of saddlebags is water-resistant, durable, and has a non-abrasive vinyl material exterior that prevents the bags from scratches as well as wear and tear.
Cons:
It is not waterproof and hence doesn't provide complete protection against water while driving in rains. 

---
Concluding Remarks
We have listed all the top choices you can explore to buy the best saddlebags for KLR650.  The list cover options for dry saddlebags, collapsible saddlebags, and other such types that you can get for your bike. Depending on your use and preferences, you can choose the saddlebag that best fits your budget. We have ensured to include waterproof saddlebags in the list, too, as those options are more durable and preferred. 
We would personally recommend the fourth option by Rockbros as the saddlebags are of excellent quality, sturdy, affordable, and suitable for everyone. The bags are priced economically and have sufficient storage capacity.  Make sure to go through all the product details and specifications to get the best saddlebag for your KLR650.