accessories
Best fuel injector cleaner machine – Top reviews from the experts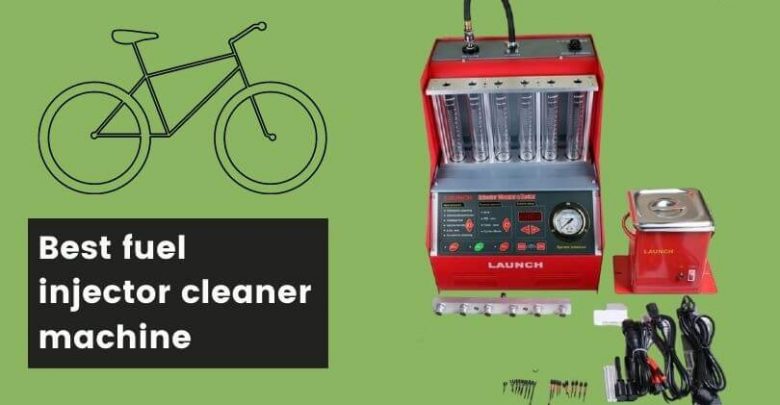 If there's one thing all of us can agree on, it is that we all want our vehicle to perform its best. This is why some of us turn to fuel injector cleaners. Frequently cleaning the fuel promises to keep your vehicle in top shape and enable it to perform well. There are many other reasons why you should invest in the best fuel injector machine as well.
Benefits of fuel injector cleaner
Let's gloss over the many benefits a fuel injector can shower on you.
Improves the gas mileage

Enhances performance

Lowers maintenance costs
Types of fuel injector cleaner
There are 2 different types here, each unique and useful. Below is a closer look:
Detergent: Detergents activate chemicals so that the carbon deposits are forced to slide out of the fuel system. These are not very common and have a fair bit of controversy around them because many believe that detergents don't really help.

Dissolvent: These products have polyetheramine, which works to break the carbon deposits down. Once they break, they are easier to eject. Dissolvents are the most common fuel injector cleaners today.
Best fuel injector cleaner machine
To do a good job, you need a machine along with the cleaner itself. If you plan on carrying this exercise out regularly, we advise you to buy the machine. Here's the list of our favorites based on various parameters:
1. AUTOOL MINI CT-150 – Fuel Cleaning Tool
This is a cleaning and test injector that works for multiple brands of motorcycles such as Yamaha, Honda, Sanyang, and Suzuki. Why should you purchase it? Check out its features to find out!
It has an LED display.

It has a built-in ultrasonic trough.

The machine comes with a tool trolley that makes operation considerably easy.

Along with motorcycles, you can also use it for a number of car brands such as Land Rover, Chevrolet, BMW, Benz, Ford, Audi, etc. We advise you to check the compatibility before purchasing. 

The high-quality SIEMENS pump makes it very durable.

It discharges fluid quite quickly. The fuel tank's capacity is 2000 ml.

---
2. AUTOOL Launch Injector and Cleaner – CNC602A
The AUTOOL ultrasonic injector and cleaner performs extremely well and has the capacity to perform the cleaning on multiple injectors at the same time. Here are a few more details:
You can conduct the sprayability and uniformity test with this cleaner.

It also allows leakage testing.

The unit has various couplers and adapters to help you clean the injectors on the vehicle efficiently.

The auto test feature tests injectors thoroughly, simulating different types of working conditions.

You can use this machine to clean all vehicles. However, if you want to use it for testing as well, make sure you check compatibility. The testing function works only for petrol-powered vehicles.

---
3. Bosch HPT Leak Tester – High Pressure
Bosch is an extremely well-known brand because it is reliable and delivers as promised. This fuel injector cleaner machine is no different. In fact, many have sworn that it exceeds expectations! Let's find out more:
It is a high pressure tester that detects leaks. It can also find leaks in the exhaust.

From the intake to exhaust, it takes 15 minutes! This means that it tests everything within 15 minutes and lets you know if there's any leak.

It is the perfect choice for heavy-duty trucks, turbocharged vehicles, etc.

The machine has dual operating modes and a flow meter that measures the flow rate. 

It is made out of steel/billet.

This is a complete kit that includes a remote control key fob, an adapter, a power cable, a high pressure tester, and vapor producing fluid.

---
4. AUTOOL Fuel Injector Cleaner Tester
This one supports almost all vehicles and is an efficient way of cleaning all the trough built-in over time. You must be wondering why we are recommending it. The reasons are as follows:
It cleans and tests motorcycles and cars but is compatible only with certain brands. Make sure you check that before purchasing.

It has an LED display.

This machine works to remove carbon build-up from the fuel system. It tests leaks and uniformity as well.

It comes with a cable and adapter, making it a versatile choice.

It is quite easy to use and does not need disassembly.

---
5. BELEY AUTOOL – CT-150
This is an ultrasonic cleaner with injector testing capabilities and multiple other features that you will love. We have enlisted a few here:
It offers leakage testing, auto-mode testing, injector testing, and testing the injector's injection.

It is very efficient, quickly cleaning out carbon from the fuel system.

Its high quality LED display helps you read the data immediately and clearly.

You can use it to clean all the injectors together. The same applies to testing.

The manufacturers provide a 3-year warranty with the machine.

---
Our experts have brought these reviews to you, to make your job easy. All that's left now is to choose and buy! Don't wait any longer – purchase the best fuel injector cleaner machine today and you get rid of all the excess carbon composites.
If you have any questions, do reach out. We are always on stand-by to help.