accessories
Best Internal Gear Hub – Top Reviewed Bike Internal Gear Hub of 2019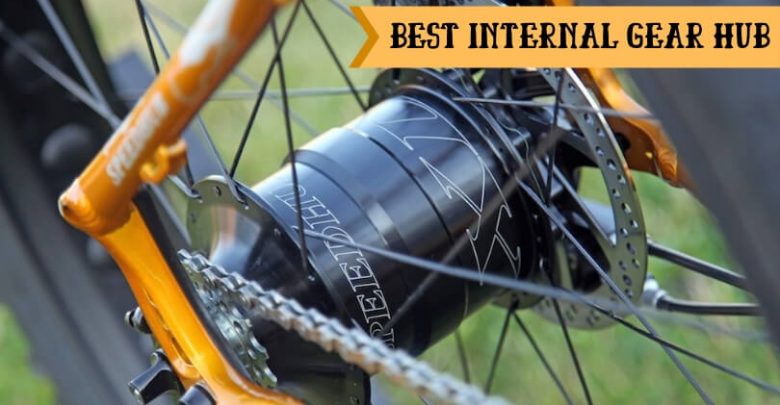 Internal gear hubs or IGH are gaining a lot of popularity in the bicycle world, taking over the traditional derailleur. Those who go on biking tours and commutes find it the most helpful. With an internal gear hub, you enjoy the consistency because you change the gear ratio of the bike. Also, the rear hub is where the shifting mechanism and gears are. It is like a sealed shell for them. 
So, why are people choosing an internal gear hub instead of a derailleur? It is important to understand that before jumping into finding the best internal gear hub for sale in 2019. 
You don't have to worry about maintenance

These hubs are extremely reliable

They increase the lifespan of the chains

You have the flexibility to shift gear even when not in motion

The rear wheel is strong

You can shift more than one gear in one go

They are good for different weather conditions including snow and rain

They are technologically advanced
These are just a few of the pros of internal gear hubs that make them so desirable despite a heavier price tag. Now, let's jump straight in and discuss about the best internal gear hub in 2019.
Best Internal Gear Hub
1. SHIMANO SG-3C41 Universal Gear Hub Kit Nexus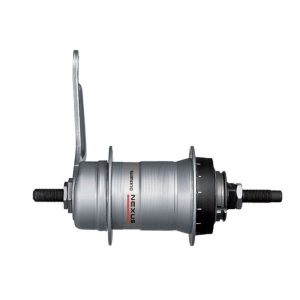 With an excellent 186% gear range, the SHIMANO Universal Hub Kit is a steal! It is fairly priced and comes with features that have only impressed users so far. Let's take a look at what they are:
It has a push rod and a ¾" chain stay rod.

It also has a non-turn washer.

The axle length is 168mm.

This kit does not include the shifter.

It is very easy to install and gives you a smooth ride immediately.

We advise you to check the measurements so that you know for sure that it fits your bicycle.

---
2. Sturmey-Archer S80 8 SPD Internal Gear Hub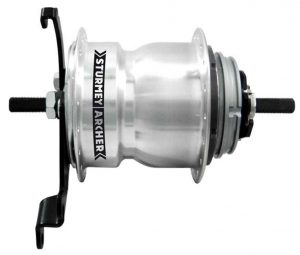 A little more expensive than the previous product but still fair enough, Sturmey-Archer is one of the best in the business today. Our personal experience aside, we have had multiple people resonate what we felt – pure quality and high performance. Here are some of its features:
It is a silver-colored beauty with 36 spokes.

It is versatile enough to work on any bike as long as the measurements are correct. You don't have to worry if you don't have an electric bike. It could work just as well on an ordinary bike too.

Once you get this kit, you won't have to worry about buying anything else. It includes cables and hardware.

It is particularly reliable for bike trips down and up the hill.

The cables are hook-on. This means that if you have a flat tire, you will be able to remove the hub easily. 

The gear shift is particularly clean with this IGH, making it the perfect option for heavy bikes and commuter bikes.

---
3. Rohloff Disc-Speedhub 500/14 DB, Q/R 32h Black
If you do not mind spending extra bucks or if you are comfortable buying something expensive, you cannot ignore Rohloff. It is one of the best options out there, albeit a little expensive. Let's take a look at some of its features:
It has an axle of 10 x 135mm.

It is a reliable, low maintenance hub, giving you more reliability. 

It is a 14-speed system.

The IGH has been designed to eliminate gear overlap and to ensure maximum ratio range.

In most hubs, the shift indexing begins at the shifter, but in this case, it starts at the hub.

It comes with housing, cables, etc. 

All the spoke lengths are equal as are the tensions, making the hub completely stress-free.

---
4. SHIMANO SG-3D55 Universal Gear Hub Kit Nexus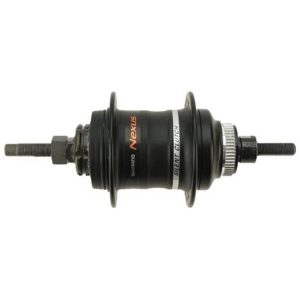 Another excellent item from SHIMANO, the SG-3D55 lives up to the brand name. It is reliable, extremely easy to install, and comes with a range of features that make it one of the best that you can choose. What's more, it is also one of the most affordable options on our list. Let's explore its features now:
The gear range is 186%, which is pretty standard.

It has a non-turn washer.

The spacing is 135mm. You must keep this in mind while purchasing because it varies from bike to bike.

This is only an internal gear hub and does not come with a disc rotor or shifter.

The hub comes with a 19-tooth hog.

Its USP is that it offers excellent gear ratio without complicating things. So, if you have a simple cruiser that's giving you problems while going up and down the hill, this one will solve your problem.

---
5. SHIMANO Alfine 11-Speed Internal Geared Bicycle Disc Brake Hub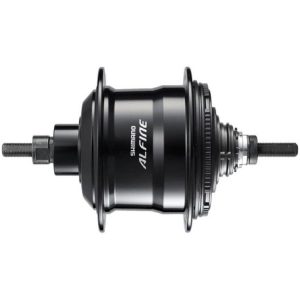 This one from SHIMANO comes in two different sizes, giving you the flexibility to pick based on your requirements. It has been designed for better gear engagement thanks to an improved internal structure. Let's take a closer look:
It promises extremely smooth shifting performance.

Whether you have an e-bike or a regular bike, you can choose this internal gear hub without worries.

It is an 11-speed hub. There's an 8-speed option as well.

It comes with a center lock for added safety.

The gear range is pretty wide and comfortable.

---
We hope this list helps you pick the best without really worrying about making the wrong choice. All our choices are tried and tested! If you have any doubts or concerns, please feel free to talk to us through Comments. Also, don't forget to let us know which of these you choose!
How an internal-gear hub works?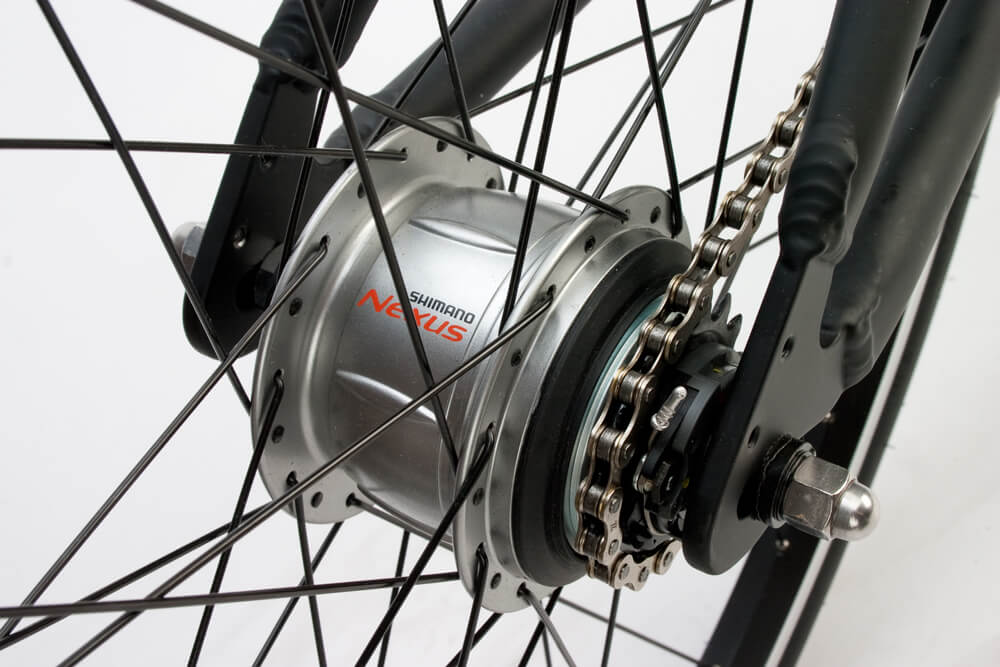 Did you know? The internal gear hub works on the principle of planetary gearing. Planetary gearing is the system that consists of one or more planet gears or sun gear. In this article, I will tell you about the working of an internal gear hub. 
Three primary speed hubs have one single sun gear. It is attached to the middle of the axle. The sun gear revolves around the identical 3 or 4 planet gears. The gear ring surrounds these planet gears. The gear rings are like teeth from the inside section. 
The internal gear works in a very systematic manner. The planet gears are attached to the planet cage, which revolves around the ring. These models have a different ratio as per the system, which is why not generalizing any ratio here. 
Internal gear hub has three significant parts of gear:
Low Gear
Low gear gives a gear reduction while the sprocket drives the gear ring. Similarly, the planet cage operates the hub, which makes the wheel to turn three or more times of revolution. 
Middle Gear
Inside the middle gear, there is a sprocket which runs the hub directly. In middle gears, the internal gears are always in rotation, along with the motion of sprocket. 
High Gear
In high gear, the planet cage is driven by the sprocket and the hub is driven by the annulus. This on an average ger function increases to 33% and with four revolutions. 
Note: Make sure the compound planet gears are timed while rebuilding a hub and aligned with different sections. Otherwise, the hub will not run roughly and can get damaged. 
This is how an internal gear hub works, and if you have more than three planetary stages, then you need to refer it internally as it has a complex functioning. So this is it, signing off, hope you understood the working of the internal gear hub.