accessories
Best Single Speed Chain – Top Rated Single Speed Bicycle Chain of 2020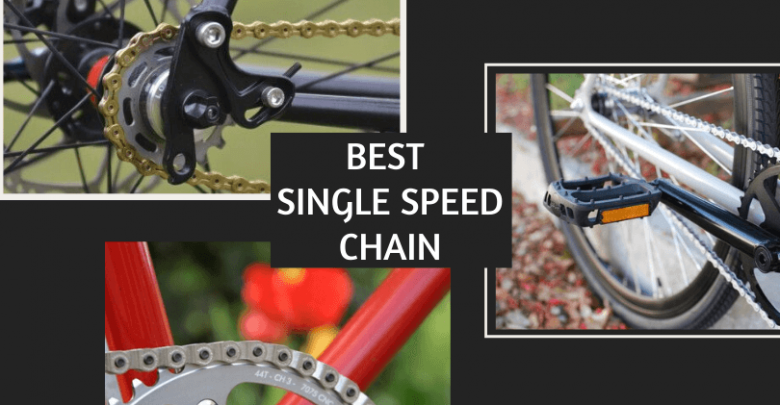 A bicycle chain is essential. It is one of the most critical and fundamental parts of your bike. It is important and it should never be taken for granted. We, as cyclists, always neglect it. When was the last time you gave the proper care and attention your chain required? There are chances that you already need a new chain. To make it easy for you, I have provided a few options for the best single speed bike chains available in the market. All these chains are excellent at serving their particular purpose.
Taking care of your chain will help in getting the most from your favorite bicycle. Even if you don't have gears to change, you will need a chain that allows you to provide as much of your power as possible. A good chain will make your journeys and cycle ride effortless and more fulfilling. Let's start with some fantastic single speed bicycle chain options.
Best Single Speed Bicycle Chain
1. KMC K710 Bike Chain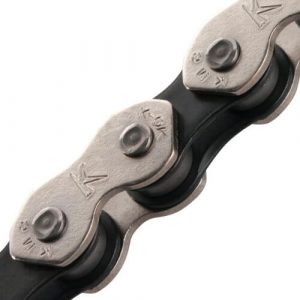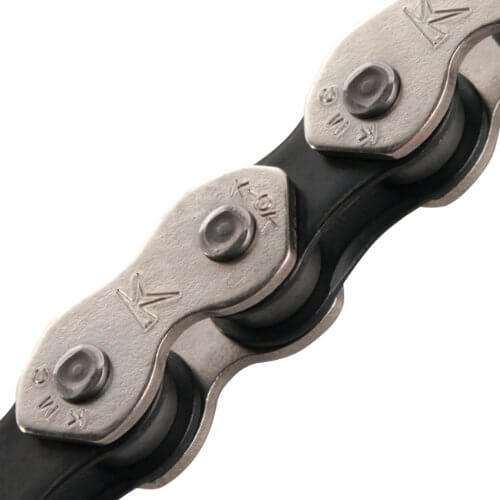 KMC is one of the best bicycle chain manufacturers around the world. It is stretch-proof and able to cope up with wear and tear for an extended period. Being a user, you can get more mileage of K710 single speed bike chain. This silver and black bike chain is made from robust and reliable materials. It works best for normal BMX and single speed use because of its extra-thick outer plates.
Key Features and Specifications
Its high-quality alloy materials and mushroomed pin increases durability.

It is designed for jumping and aggressive street riding.

The chain is a little messy and pre-greased. You just have to fix it to the cycle.

This model of KMC chains has thicker side plates for 25% higher tensile strength.

 Its dimensions are 1/2 x 1/8 inches, and it comes with a master-link.

---
2. Zonkie Single Speed Bike Chain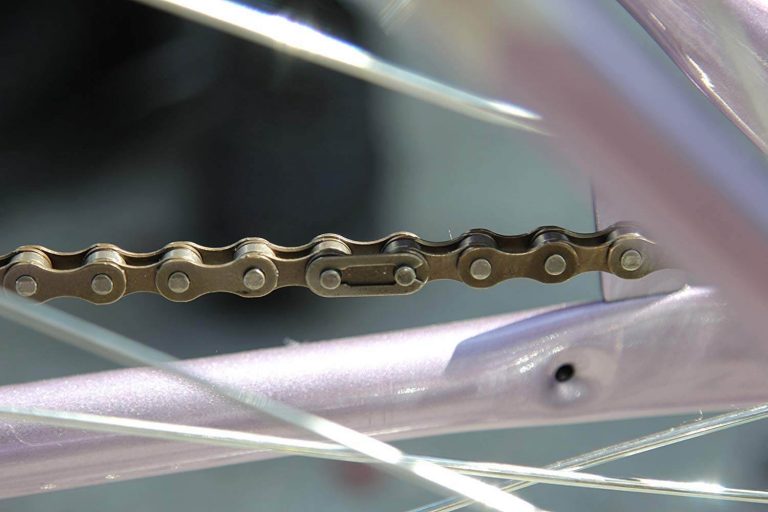 Zonkie is an experienced manufacturer that is popular for making various bicycle accessories. The company believes in providing reliable products and high-quality services. The research and development department of Zonkie works hard to upgrade the fixtures and improve the products continually. Not only that, it claims that all products manufactured by Zonkie are tested and screened by professional athletes.
Key Features and Specifications
This chain is suitable for Shimano, Campagnolo, and SRAM drive systems.

It is easy to install or disassemble. It can join with the magic buckle.

You can quickly clean this chain and use it again for many months.

It is made with the steel by repeated forging, which ensures its durability.

The strict control of materials ensures the strength of this cycle chain.

The product is pre-greased, pre-polished, and smoothly lubricated with oil.

It facilitates accurate matching with professional equipment test spacing.

Because of the professional and technical test data, it performs accurately.

It is rust-free as well as corrosion-free and offers a better sliding with significantly lower friction resistance of the individual metal links.

---
3. Schwinn Single Speed Bicycle Chain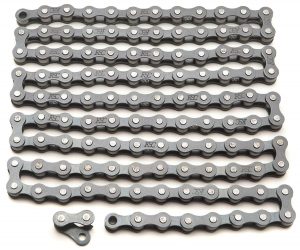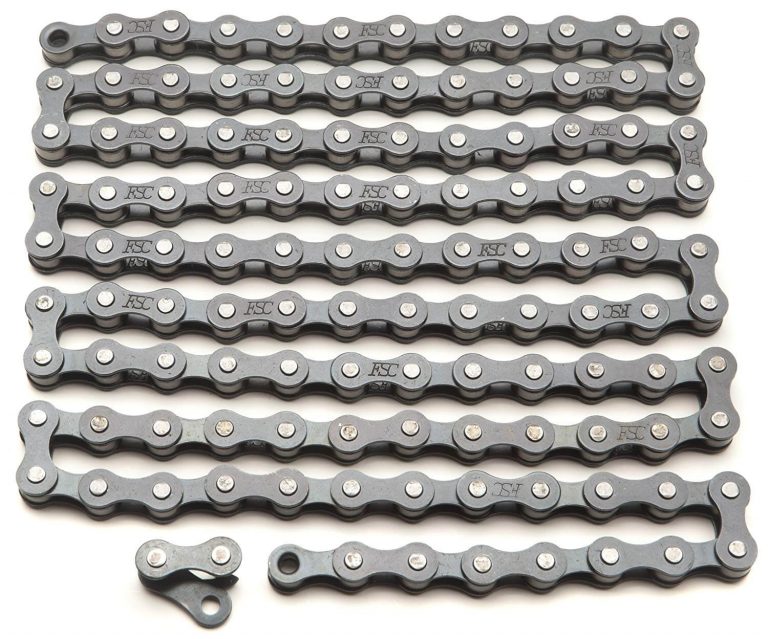 The chain on your bicycle is responsible for converting the power. It helps in transferring the strength of your pedals to the wheel of your bike. Because of the bike chain, your bike goes faster whenever you pedal a little harder. It helps reduce the friction between the inner and outer links of the chain that helps to make the rides easier and smoother.
Key Features and Specifications
This chain is known as one of the most durable chains available in the market right now.

It is inexpensive and still ideal for the single-speed bikes as it is 56" long.

It is compelling and can be fitted with mountain bikes with 26" wheels.

Its anti-drop design comes with full nickel plated and heavy-duty structure.

There are two sizes available from which you can select – ½ inch x ⅛ inch and ½ inch x 3/32 inch.

---
4. KMC Z410 Single Speed Bicycle Chain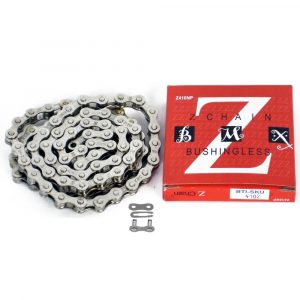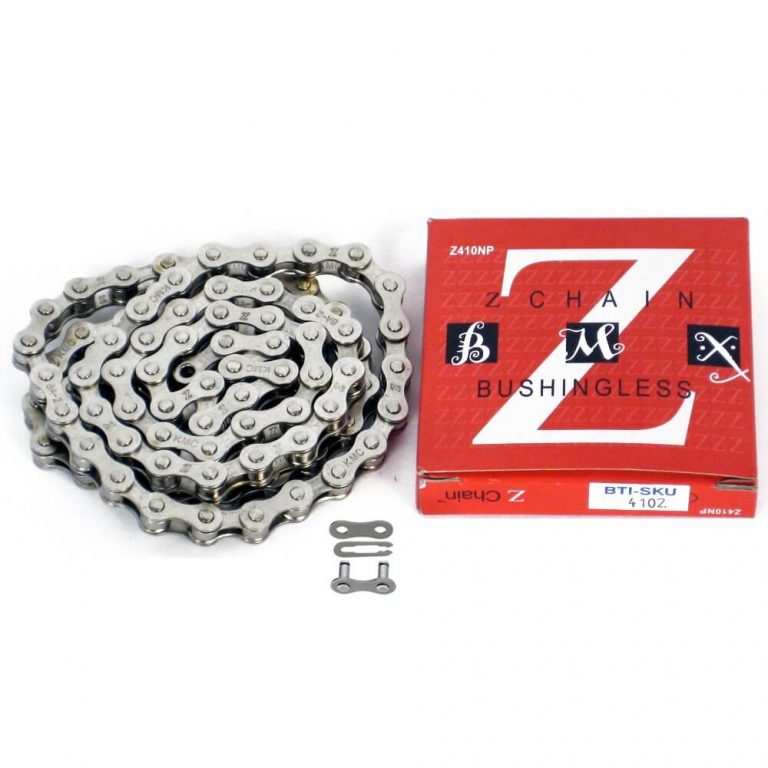 It wasn't very easy for me to mention only one KMC product as the best one. So, I am reviewing another one as well. KMC Z410 Single Speed Bicycle Chain is super light and very compatible with most cycles. The coating of this chain significantly reduces wear from abrasives. The surface hardness of this product also works fantastic if compared to other brand's single speed chains.
Key Features and Specifications
It has earned respect because of its heavy-duty construction and hard finish.

The company features a nickel plate to protect the chain from rusting.

Its structure is made by stainless still which makes it sturdy and long-lasting.

This chain can make your rides smoother. It is well plated for landing and griding.

These chains are available in more than six colors from which you can choose, according to the color or style of your bicycle.

---
5. ZHIQIU FSC F410 Bicycle Chain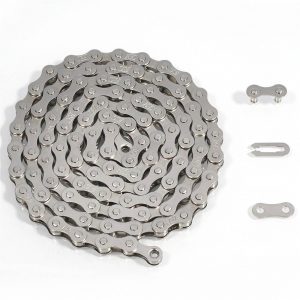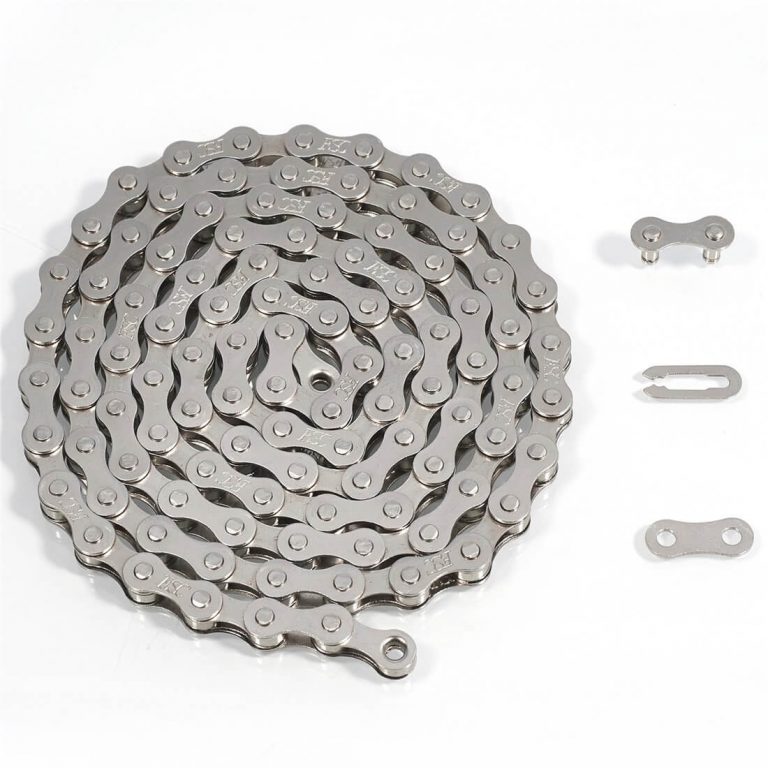 The best part of the ZHIQIU FSC F410 Bicycle Chain is that it works great for BMX, fixies, cruisers, track bikes, and all single speed needs. Unlike other chains, it provides one year of manufacturer's warranty and also available 24*7 on the phone to give answers to the customers.
Key Features and Specifications
Apart from the single-speed bikes, you can also use it for the fitness series.

The node strength is around 90 kgs, and tensile strength is about 820 kgs.

It is one of the cheapest single speed bike chains and still works great.

It is nickel-plated to protect the chain from rust or corrosion. 

You can select it from the beautiful color range, such as brown, silver, or golden.

---
How to Fix Single Speed Bike Chain
You may know that when the bike doesn't have a derailleur, it starts losing its chain. A derailleur is a gear changing mechanism. It is placed towards the back of your bike and helps to pull the chain. It is mandatory to use a derailleur to keep the chain tight. Bikes that don't have this mechanism are single speed bikes. They are also known as fixies. Let's see how you can tighten or change the single speed chain.
Tools you will require – A wrench that fits your rear axles.
Step 1: Chain Removal
Master Link: Take out your toolbox and look for needle-nose pliers. Remove the C-clip and master link. Now, remove the chain from the bicycle. You can also remove the master link using the master link pliers. Remove the chain tool and then the chain from your bike.
Without Master Link: If you are unable to find a master link on your cycle, then most probably your chain uses a connecting rivet. It may appear visually different from the other rivets in your chain. Once you found it, look for another rivet that is several links away from your connecting rivet. For the process of chain removal, now you have to unclip the other rivet out of the chain. Use a chain tool or wrench.
Step 2: Sizing
Old Chain: If your old chain has a perfect size, then compare them by putting next to each other. Simply, match the sides of the rivet, install the chain tool, and break the chain as per the length of your old chain.
Without Old Chain: If you don't have an old chain and starting from scratch, move the wheel all the way forward. Don't forget to secure the axle-nuts to keep them completely engaged. Wrap the chain around the front & rear sprockets. While determining the chain length, it is compulsory to engage any master link to account for all the links. Pull the lower run of the chain as tight as you can and measure accordingly.
Step 3: Chain Installation
Master Link: After routed the chain correctly through the frame, join the ends using a master link. Pull the wheel back and align the bike in the center. Install the chain tool. At last, drive the connecting rivet into the chain.
Connecting Rivet Chain: To connect your accurate new chain, first, you need to join the rivet with some chain lube. Don't use more than a drop of the lubricant. Install the rivet into the chain from the inside, and you are good to go!
I hope this article has helped you to find out the best single speed chains available in the market. It is essential not to take these products as granted when it comes to your favorite cycle. You ride it daily, and you just can't compromise with your life safety. Stay connected to know more about rising and related equipment.