accessories
Best Toe Clip Pedals of 2020 – Choose the Top Bicycle Pedals for Grip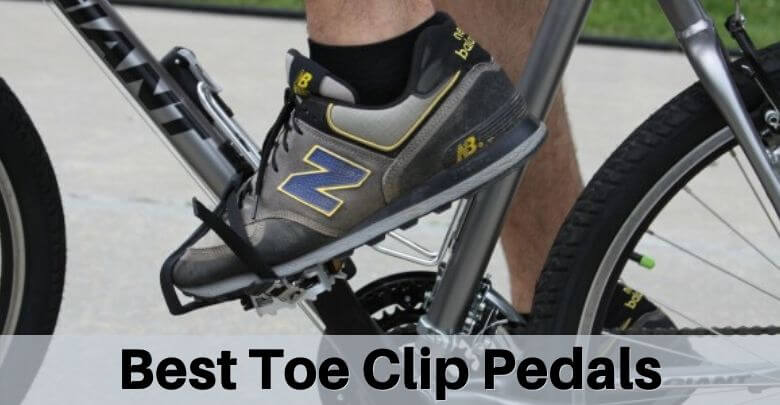 When you are looking for some unique bike pedals, you may get confused by the number of choices you get to choose from. First things first, you have to decide the type which you want to purchase. It is necessary to understand what a bike pedal can do for you for that. You can't take them lightly as they are directly related to your performance and safety. You must feel comfortable with your bicycle and pedals both. If they are out of your comfort zone, wide, narrow, small, big, or creates less friction than you already required, you can't really enjoy your ride.
There are many types of pedals available such as platform, clipless pedals, float, etc. To help you with the specific choices, we have narrowed down a few options in this article. Here you will only get road bike toe clip pedals that have already earned respect for their sturdy grip. All these products are easily changeable and work best according to your needs. Let's go further with the top products.
Best Pedals With Toe Clips
1. Namucuo SPD Toe Clip Bike Pedals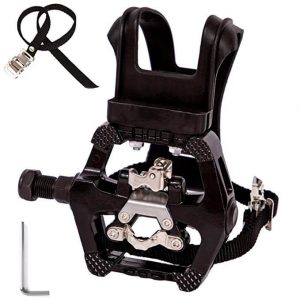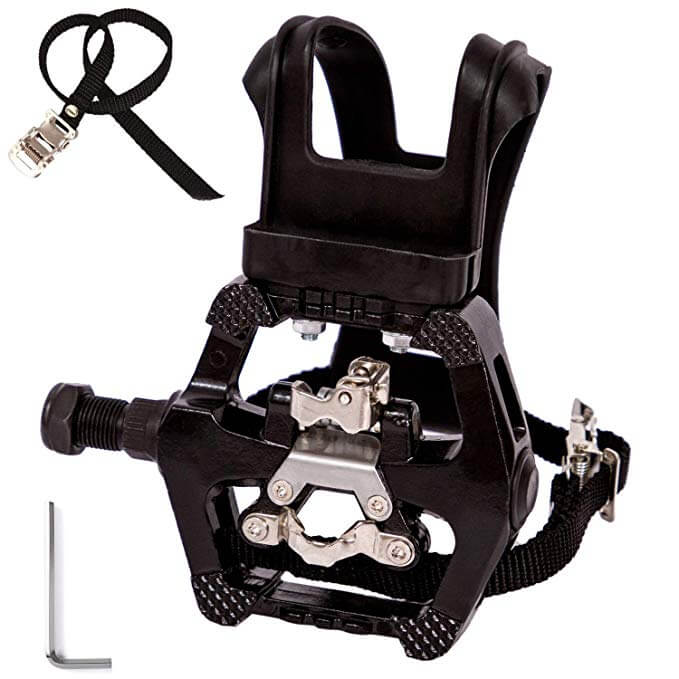 This one is known as a Hybrid pedal. It includes toe clips and straps that are suitable for any spin bike or even indoor bicycles for exercises. To cut it short, you can fix this pair of pedals on any cycle that comes with 9/16″ axles. It is advisable to compare the suitability of your bicycle, because some combinations may cause friction on the bicycle body.
It is a multipurpose pedal. You can find the SPD style clipless on one side. On the other side, there are clips and straps. The pedal surface is around 90 x 90 x 23mm, with the clip size of 135 x 90 x 23mm.
The attached clip is easily removable. You can remove it in just half a minute and pursue a regular ride. The weight is around 765 grams, including clips.
It has an extra nut that is 10 cm longer than the typical pedal spindle. You should try this size before making any permanent decision. The main shaft is 20 cm long.
It is made with five different materials that ensure safety and sturdiness. The ontology is made of aluminum alloy, and the surface is made of black electrophoresis.
All the screws are of 22 steel with the spring material 65MN. They provide the strength of 8.8 with their nickel-plated surface and spring steel buckle bracket.
One other best part is the warranty! The company provides 6 months of warranty on this product. So, if you tried and didn't like the pedals, you can simply return them and get a full refund. You can also email the customer care managers for other possible solutions.

---
2. Diamondback Bicycle Pedals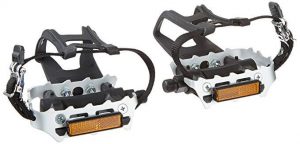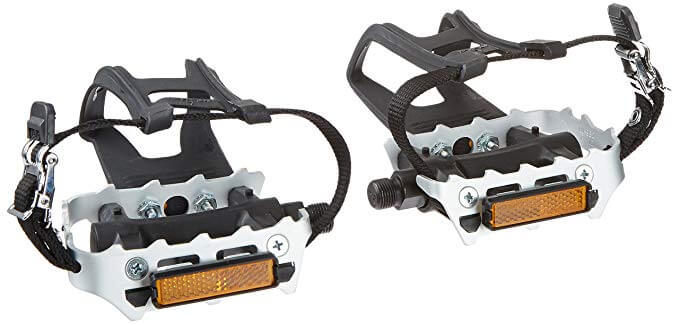 These alloy/resin pedals are perfect for all types of bikes. Whether you want to have pedals for your city rides or some adventurous mountain road rides, you can trust Diamondback beauties. The best part of this product is that you can also remove the cage and free the pedals from the toe clip. This way, your bike can serve many purposes.
They provide the best support because of the installed metal grips on the bottom. The nylon straps, along with the metal grips, will help in holding your feet or shoes just right on the pedals.
These pedals come with a 9/16″ Chromalloy spindle. As the toe clips are already installed, you don't need to take stress about the fittings.
Diamondback Bicycle Pedals are durable and safe for the long rides or marathon. They come with the full alloy cage and power-packed nylon body.
The weight of the product is around 8 ounces, but when you install them on your bicycle, you will soon realize that they are the most suitable.
Product dimensions are 8 x 6 x 2 inches, which are ideal for any bicycle. You can get this item for your children, and once they learn to ride their bicycles properly, you can simply remove the clips and straps from the pedals.

---
3. AbraFit Toe Clip Bicycle Pedals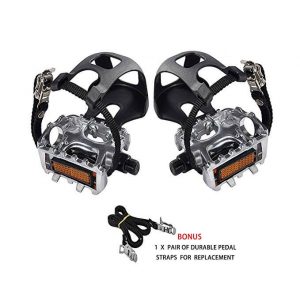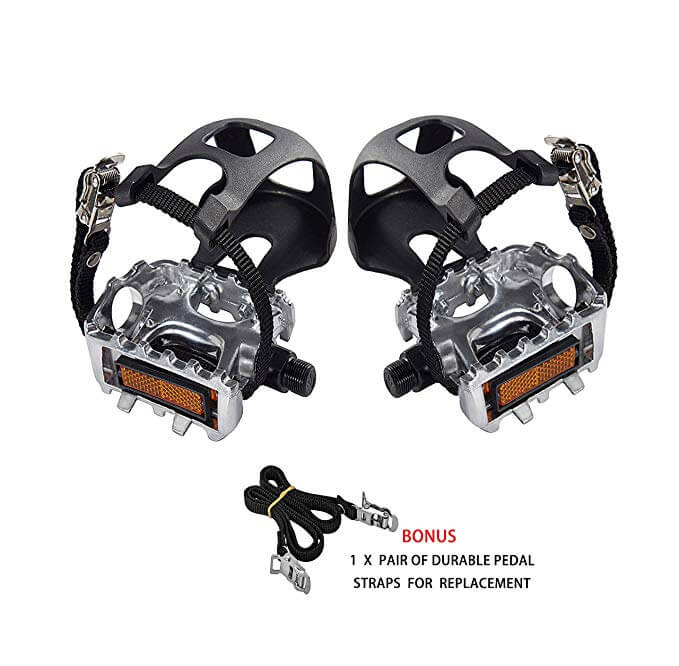 This combo will blow your mind with its premium quality and robust control. AbraFit Toe Clip Bicycle Pedals are made of resin and alloy, which is the most potent combination. If your cycle has a 9/16 inch axle, then you should surely consider this option before choosing any other products. You will not regret it and thank us later.
These toe clip bike pedals are durable because of the construction of an Aluminum Alloy body and sturdy Resin cage.
There are pre-installed straps and the toe cages. If you want to remove or reinstall them again according to your needs, you can do it quickly.
Just like the installation process, using these pedals is also straightforward. Their metal grips and nylon straps provide extra safety. It comes with a free pair of durable straps. It is suggested to change them while attending mountain rides.
Some pedals with toe clips are quite inconvenient to use. It's become challenging to take your foot with shoes out at a quick stop. With AbraFit Pedals, there is no such issue.
The company assures a 100% satisfaction guarantee. If you are still not satisfied after using this product, you can get your money back.

---
4. Newsty Bike Pedals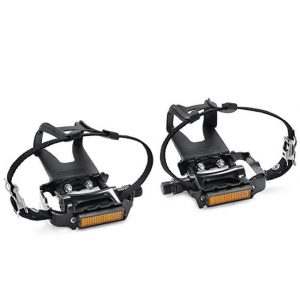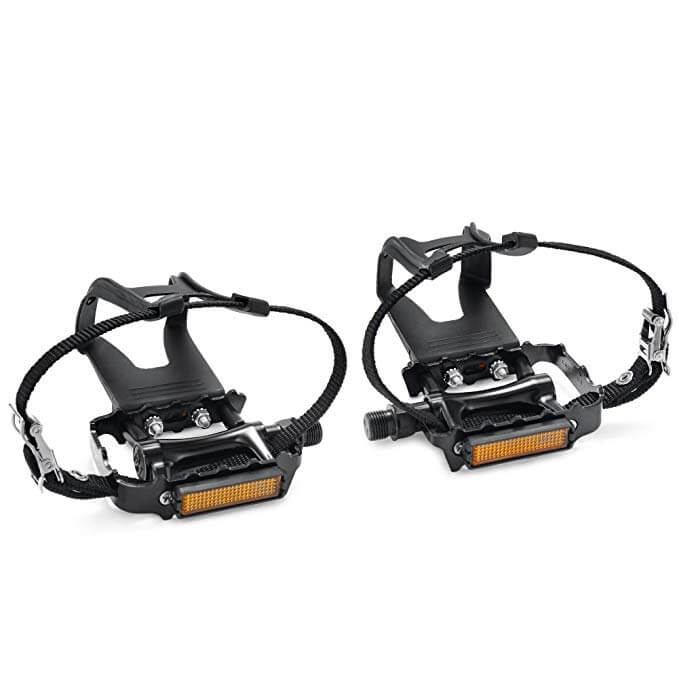 If you observe keenly, you will find out that Newsty Bike Pedals are very similar to Namucuo Bike Pedals when it comes to the features. The company uses durable and high-quality resin and alloy materials for ultimate safety and comfort. The grips at the bottom are also made of premium quality metal, just like the first product of this list.
The nylon straps help to keep your shoes on position. Because of the metal grip and straps, feet can stay right on the pedals.
Such support provides the ultimate control while paddling. You don't need to take stress about losing your balance because of the pedals. You can show your aggression while exercising or cycling.
It is compatible for most bikes with 9/16″ spindle. This product is not only perfect for outdoor cycling or mountain rides, but also the indoor exercising cycles.
The process of installation is easy and not at all time-consuming. It will take just one minute as all the grips and clips are already installed.
The company provides a one-month-free return. Also, for FYI, the right pedals are right-hand threaded, and left pedals are the left-hand and reverse threaded.

---
5. Retrospec Pedal with Integrated Toe Cage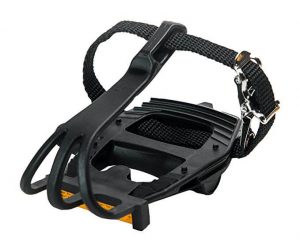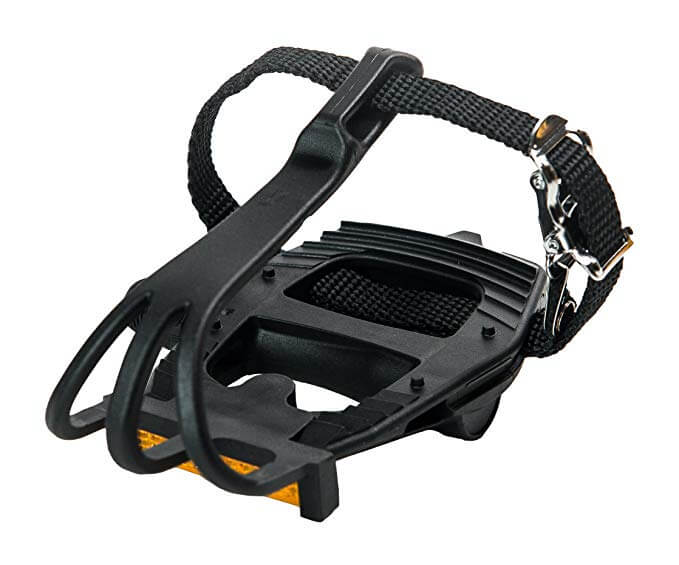 Talking about this product, we can assure you that The Retrospec Classic Road Pedal is specially designed to provide better control to your foot movements. The toe clip, along with the straps, can lock your feet so comfortably that you can surely expand your cycling power.
These pedals are high-end road bike pedals and are compatible with cleats such as VP-ARC5, VP-ARC6, and majority of the bikes with 9/16″ axle.
You can ride your bicycle with or without cleats. If you don't need a toe cage or straps for some time, you can remove and then again reinstall it quickly.
Their dimensions are 140 x 91 mm each, and weight is around 300 grams, including the toe clip and nylon type straps.
Its one-piece polypropylene plastic along with the 7mm high-grade Boron steel axle works best for the perfect grip and better control.
The non-slip ridges on the pedal will help your shoes to keep your feet on the pedal. This way, you can never miss a step from the pedal.

---
So these are the top five and some of the top toe clip pedals according to your research. Kindly keep one thing in mind is that you must remove the toe clip or the cages if you don't need or not using them. If you think that you will put your foot on the opposite side of the pedal and keep moving, you may get some troubles. There will be the risk of the cage hitting the ground and creating issues with your balance. Please don't even take a 0.01% chance with the safety measures. Follow the rules, ride consciously, and stay safe.