Reviews
Best single speed crankset: Lightest cranks for your bike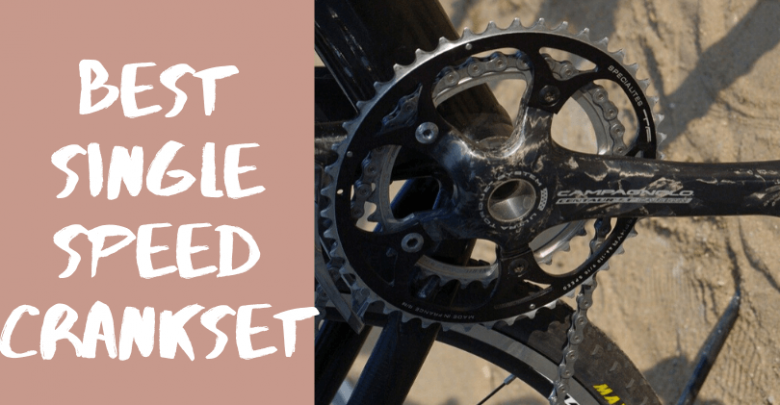 If you have a Single Speed or a Fixie bike at home, then investing in a right crankset is mandatory. The whole package, including the gears, bars, and high profile rims, is essential, to be honest. But, a single-speed crankset is the most crucial component among all. It's because it converts the reciprocating motion into the rotational motion and allows you to move your cycle ahead. Basically, it helps the single speed chain or belt to push the rear wheel. 
Best single speed crankset
The modern cranksets are advanced and well-equipped than the old, traditional designs. Such cranksets come with bottom brackets to maximize their performance. The majority of them are lightweight and don't add up the extra weight to your bicycle. This article is all about the best single speed crankset. Here, you will find the essential features and specifications of each of these products mentioned below. The information will help you to choose the most suitable one according to your requirements.
1. ORIGIN8 Track/SS Single Speed Crankset
This product can help you to get the best performance from your bike because of its highly functional unit. It is a single-speed crankset that comes with forged 6061-T6 alloy crankarms. It is lightweight and doesn't make the cycle heavier. If you are looking for the ultimate comfort, convenience, and excellent performance, then ORIGIN8 Track/SS Single Speed Crankset must be at the top of your list.  
Key Features and Specifications
The company offers four different colors, such as black, blue, silver, and white. You can choose once according to the color of your bike or style it with different shades. The colors are anodized and may vary from batch to batch.

It comes in three different sizes, including 165 mm, 170 mm, and 175 mm. It includes 46T alloy along with ⅛ inch chainring. You have to find the exact match for your ride before ordering any product.

The kit does not include JIS square taper BB. It comes with a 42 mm chain line with 103 mm JIS BB. ORIGIN8 Track/SS Single Speed Crankset is convenient to use and keeps you going by enhancing its performance. 

---
2. PRO-LITE Single Speed 53T 170mm Crankset
This crankset comes with both the crank arms and the drive side as well. It is a crankset that is made for the square taper bottom brackets. There are 53 teeth available on this crankset. This crankset doesn't come with a bottom bracket, but you can get it from the manufacture's website. For your single-speed bike, you will need a width of 68 mm, and spindle length depends on the frame you are using. 
Key Features and Specifications
This single-speed crankset includes a protective cover. It fits for the single speed bike, track road bicycle, fixie, or Dahon. The weight of this crankset is around 669g/set. BB is not included.

It comes with 170 mm crankarms and 130 mm Bolt Circle Diameter. However, the package doesn't include Bottom Bracket. The 170 mm length comes without any overlap of the crank arm and chainring bolt.

The pedal size of this crankset is 9/16 inches, with the chain size of ½ inches X ⅛ inches. It is compatible with fixed-gear bikes and others such as BYA 412 P8, P18, SP8, Dahon Folding Bike, etc. 

The material used in the making of this crankset is aluminum alloy 7075-T6. It is a high-duty and lightweight forged crankset that provides ultimate strength and reliability. 

---
3. CYSKY 48T 170mm Single Speed Crankset
The majority of cyclists love to use CYSKY products because of its top-quality single-speed crankset. This brand's primary purpose is to offer durability and strength. This way, the company tries to make all its products best and different from the rest. This particular product is equipped with everything you need to get excellent output. If you invest in this product, it may become your best purchase of the year.
Key Features and Specifications
This product allows you to ride more effectively on any type of road. Your bike can go smoothly and require minimum attention while in progress. In fact, this crankset is capable enough to reduce the maintenance cost.

Because of the materials used in the making of this crankset, you can get exceptional results. Aluminum alloy 7075-T6 makes the crankset denser but lightweight enough to run at its level best.

The crankset fits for Single Speed Bikes, Track Road Bike, Fixed-Gear Bike, etc. The pedal size of this crankset is 9/16 inches, with the chain size of ½ inches X ⅛ inches. It also comes with an anodized CNC cutting surface.

---
4. Retrospec Fixed-Gear Single-Speed Road Bicycle Crankset
If you love to customize your bike and need a variety of sizes, then this fantastic product should become your first choice. You can choose between three sizes – 44T, 46T, and 48T. Not only different sizes, but there are also several bright colors available in the market. Retrospec Fixed-Gear Single-Speed Road Crankset provides top quality and is equipped with everything you are looking for!  
Key Features and Specifications
It is a heavy-duty and lightweight single-speed crankset. This three-piece forged crankset offers ultimate strength, comfort, reliability, and durability.

 You can ride your cycle with Retrospec Fixed-Gear Crankset on the road, mountains, BMX, tracks, and single-speed bikes. 

You will get 170 mm crank arm length without any overlap of the crank arm and chainring bolt. The Standard Bolt Circle Diameter (BCD) is 133.

The new crank arm design is better and much faster than the traditional one. It allows you to have more aggressive riding.

It is an inexpensive product. The bolts are included, and a set of caps that keep dirt and dust out are also included. It uses pedals with 9/16 inch axles.

---
5. CDHPOWER Single Speed Crank For Mountain Road Bike
CDHpower is an old and reliable company that manufactures many products such as engine kit, spare parts of gas engine kit, CNC machined parts, gas bike, or almost every spare-parts of your favorite bicycle. CDHPOWER 32T Single Speed Crankset can become your ideal choice for a mountain road bike, fixed gear bicycle, folding bicycle, or the single-speed bike. Its square taper interface has 170 mm pedal crank arms. However, the total length is around 208 mm.
Key Features and Specifications
It is compatible with 9/16 inch pedals with the diameter of a chainring of 150 mm. Its net weight is around 620 grams with the chainring of ⅛ inches. 

The crankset is forged from alloy material that is durable and long-lasting. This material is the primary reason for its lightweight body.

 The kit includes left and right crankarm and chainring. However, please keep in mind that it does not include BB. 

It is essential to measure the size to confirm that it fits your bike. This way, you can save the exchange time and get your products on time.

Because of its dashing black color, it can be blend with any bicycle. If you have a bright-color cycle, then also this black crankset can become the highlighter.

---
There are many types of single-speed cranksets available in the market. If you start searching, you can get a square taper crankset, integrated crankset, track crankset, and lots more. So, it is essential to have knowledge of what you want for your beloved cycle. You can also upgrade a square taper single speed crank to an integrated crank. So, choose wisely and as per your requirements. We hope you have found this article useful and already decided which one you want to order! Stay safe and play well